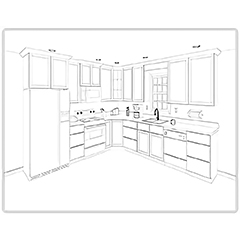 Modular Kitchen Cabinets
With a wide variety of modern and contemporary kitchen cabinets, we have something to fit every kitchen, taste and budget. Explore the benefits of our beautiful and durable selections.
Modular kitchen cabinets are the future of kitchen design.
Save time, money, and space without compromising on quality or functionality.
Choose from a wide array of modular kitchen cabinets to suit your needs and budget.
A base cabinet is a kitchen cabinet that sits on the floor and typically houses the Baskets, shelves , sinks...
Wall cabinets are usually mounted on a wall. These cabinets are usually used for storing dishes or other items.
Tall cabinets are tall enough to store pots, pans, and other large kitchen items.
Kitchen Cabinets
Choose from a variety of kitchen cabinets for your perfect kitchen!
All
Base Cabinets
Wall Cabinets
Tall Cabinets
Other